S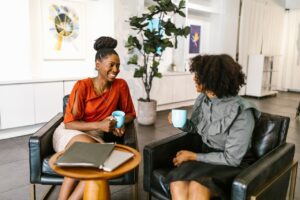 upport your constituents with an incredibly engaging career speaker. Certified Career Coach and presenter since 2002, Hallie Crawford has a variety of professional topics from career transition to job search to professional development.
We make hosting webinars and presentations easy for you with ready-to-go marketing collateral, polls, slides, and more. There are low-cost or revenue-sharing models available. Hallie is a very engaging speaker who provides tangible, timely advice, inspiration, and practical tips. She has been hosting webinars since 2010.
Get a sense of her style: You can view example webinars on our YouTube Channel here to get a sense of her presentation style. References are available upon request.
What others are saying about our programs
"Hallie is both creative and flexible, molding her curriculum to develop a series that met the needs of our organization and our alumni. The results were fantastic and speak for themselves – Every survey respondent who'd participated in the series indicated that they would recommend this program to a fellow alumnus interested in defining his/her ideal career path. Through this offering, we were able to engage individuals who had not previously interacted with our career programs." –Caroline Taylor Player, Former Director, Career Services, Georgia Tech Alumni Association
"Hallie is an incredible industry expert, coach, webinar host, and Vanderbilt alumna. We always receive glowing feedback from our alumni for her career coaching, webinars, and group coaching program, Commodore Career Intensive. Her content and expertise is always engaging and appeals to a wide audience. She has a comforting nature while giving necessary information for any level of position. I am so thankful to have a dedicated alumni willing to help our alumni in their career journeys." – Lauren Obersteadt, Executive Director, Alumni Relations, Vanderbilt University
"This presenter was excellent. Our Directors team has participated in some other online sessions through UChicago, and Ms. Crawford was the best presenter so far. Thank you!" – Participant
"This webinar exceeded my expectations. I assumed it would be a broad reminder to update my LinkedIn, along with some direction on branding or whatever, but it blended big and small tips that were all invaluable. Ms. Crawford neither talked over my head nor dumbed down her presentation, and I really appreciated that." – Participant